Certificate in Environmental Technician
Section Menu
You are on...
Main Page for

Environmental Technician
CERTIFICATE
Certificate in Environmental Technician
Total Credit Hours: 31-32
About Certificate in Environmental Technician
This Certificate in Environmental Technician is designed to provide entry-level training for those interested in supporting environmental services. Emphasis is placed on developing field skills as well as competencies in basic science and math content for technical work. The program will serve as a career or educational ladder for students interested in interdisciplinary environmental studies.
Major Requirements
Course
Course Name
Credits
Choose 1 course from the following

EN110

Freshman Composition

3

EN111

Writing for Research

Choose 1 course from the following

MA110A

Finite Mathematics

3-4

MA161A

College Algebra & Trigonometry I

MA161B

College Algebra & Trigonometry II

Course
Course Name
Credits

SI101

Introduction to Chemistry

3

SI101L

Introduction to Chemistry Laboratory

1

SI105

Introduction to Physical Geology

3

SI105L

Introduction to Physical Geology Laboratory

1

SI125

Scientific Methods and Data Analysis

3

SI155

Waste Site Worker Safety HAZWOPER

3

SU250

Introduction to Geographic Information Systems

3

Biological Sciences (Choose 2 - Lecture and 2 respective Labs for 8 credits total)

SI103

Introduction to Marine Biology

3

SI103L

Introduction to Marine Biology Laboratory

1

SI110

Environmental Biology

3

SI110L

Environmental Biology Laboratory

1

SI150

Introduction to Microbiology

3

SI150L

Introduction to Microbiology Laboratory

1

Certificate Total
31-32
2019 - 2020 College Catalog
General Requirements for Certificates
Effective fall Semester 2003, several academic policy changes were implemented to ensure that students are adequately prepared to meet business and industry standards. All Undeclared or newly Declared Students enrolled in regularly scheduled postsecondary courses must be enrolled in or must have completed developmental coursework for Math and English or have successfully placed into post-secondary Math and English (or equivalent).
Students must fulfill the English general education requirement by the time they have enrolled in 12 credits of classes. This means that students may take only nine (9) credits before they must begin meeting the general education requirements. All declared students in Certificate programs will be required to successfully complete minimum general education course requirements. For more information, refer to the Admissions Information, General Education Policy section of this catalog.


A. General Education Requirements

Students must demonstrate proficiency in reading, writing, understanding and speaking English as indicated by one of the following:
Test out of the English Placement Test (or equivalent), or
Satisfactory completion of EN096 or EN097 courses
and
Test out of the Math Placement Test (or equivalent), or
Satisfactory completion of MA098 course
*Students in the Certificate of Construction Technology program can successfully complete their math requirements with MA094 Mathematics for the Trades in lieu of MA098 Intermediate Algebra.

B. Major Requirements

Total Major Requirements vary by program.
Minimum Total Credits Required for a Certificate is 30 credits.

* No course may be counted for both Major and General Education requirements.
** Placement testing is not mandatory for admission to the College. Completion of placement testing of equivalent, however, is required for enrollment into English and mathematics courses. Therefore, students who plan to enroll full-time in a program should take the placement test to be eligible for a full load of courses.

2019 - 2020 College Catalog
---
Upon successful completion of the Certificate in Environmental Technician program, students will be able to:
Demonstrate professionalism and ethical conduct within disciplines in the environmental field.
Demonstrate interdisciplinary knowledge and skills needed to effectively work in the environmental field.
Demonstrate proficiency in technical methods and data handling and processing methodology.
Check out some of these amazing Certificate in Environmental Technician courses...
SU250 Introduction to Geographic Information Systems
This course will provide students with basic knowledge of Geographic Information Systems (GIS) (e.g., sources of GIS data, various data models). Special emphasis will be given to the manipulation of digital spatial vector data with application to cadastral surveys. One of the objectives of the course is to provide students with hands-on experience with GIS software and hardware components. The course emphasizes practical GIS skills.
+ More Info
SI125 Scientific Methods and Data Analysis
This class is an introduction to the practice of science, with a particular emphasis on Environmental Science. This course provides Environmental Technician students with an overview of the scientific methods and process, particularly within the context of observation-driven investigations. Students will examine the steps of crafting scientific questions and hypotheses, research design, experimentation and data collection, data analysis, interpretation and presentation. The course will include an introduction to the technology and methods used data collection and environmental testing. The course will also include an introduction to the tools and methods used in science writing and data collection, the presentation and statistical analysis of scientific data, and search and review of the scientific literature. Finally, students will consider the nature of the theories that arise from, and provide a framework for, the practice of science. Students with one (1) year experience in the workforce relative to data collection and report analysis can be evaluated by the Department Chair for waiving of prerequisites.
+ More Info
SI105 Introduction to Physical Geology
Introduction to Physical Geology is the science of the earth, the materials that make up the earth and the forces and processes that shape the earth. Topics for this course will include minerals, rocks, earth's internal structure, plate tectonics, geologic structures, the rock cycle, and surface/subsurface processes. This course is to be taken concurrently with a laboratory/field course, SI105L, where students will conduct laboratory and field investigation that will reinforce the course topics and expose students to Guam's complex geologic history.
+ More Info
---
You may also be interested in these related Programs...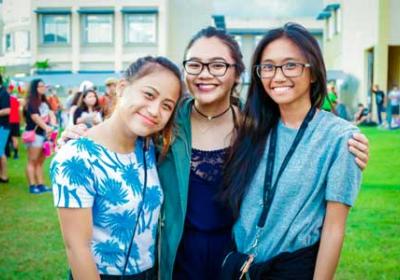 The Associate of Science in Human Services program provides a multi-disciplinary, culturally diverse curriculum as the foundation for entry-level career pathway in the human services field. The program prepares students with the knowledge and skills required for employment at entry level para-professional positions in human services assisting social workers and other allied health professionals like counselors, psychologists, nurses and medical doctors.
+ More Info
It is the mission of the Fire Science Technology program to prepare, educate, and train students for a career in firefighting. The certificate program in Fire Science Technology is not open to the general public. It is a competency-based academy program designed to offer entry-level training for fire recruits. Students who wish to attend the GCC Fire Academy should first obtain employment with the Guam Fire Department or any other Pacific Basin fire department that sends recruits to the GCC Fire Academy for basic training.
+ More Info
Emergency Management graduates will be able to apply basic emergency management skills in the event of natural and manmade disasters. Graduates will be able to implement the four major areas of emergency, namely, mitigation, preparation, response, and recovery.
+ More Info