Adult High School Diploma Program
Adult High School Diploma Program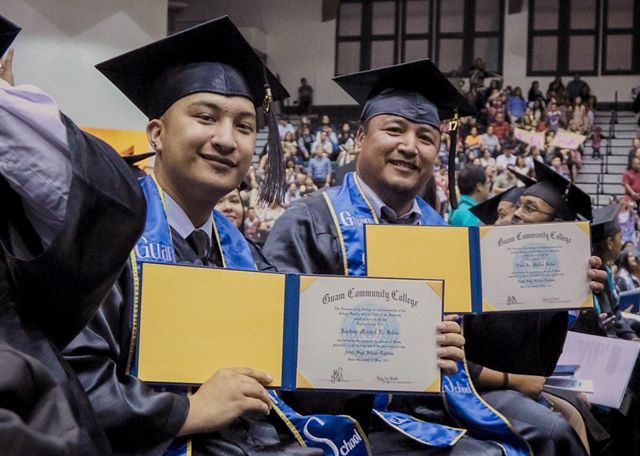 "It's never too late to graduate."

Due to the COVID-19 pandemic, the Adult Education Office is currently unable to conduct CASAS assessment tests. However, fill out the form below and we will answer any questions that you may have. As soon as we as a community overcome this pandemic, the staff of the Adult Education Office will contact you and schedule a time and day for an assessment test.

Adult Education Service Inquiry

Program Mission
The mission of the Adult High School Diploma Program is to assist students with completion of a secondary high school diploma or it's equivalent and transition into postsecondary education and/or workforce.

Program Eligibility and Placement
GCC is mandated through Public Law 14-77 to provide adult education to individuals who are 16 years of age and not enrolled or required to be enrolled in a secondary school under Guam Law (Public Law 34-104; Compulsory Age 18 yrs. old), and is -
basic skills deficient;
does not have a secondary school diploma or its recognized equivalent, and has not achieved an equivalent level of education; or
an English language learner who has limited ability in reading, writing, speaking, or comprehending the English language and whose native language is a language other than English or lives in a family or community environment where a language other than English is the dominant language.
Individuals must obtain a Comprehensive Adult Student Assessment System (CASAS) score of
239 in reading and a 236 in math
to be eligible to enroll into the Adult High School Diploma Program (AHSDP) or take the high school equivalency exam (GED® and HiSET®)
Program Description and Requirements
The Adult High School Diploma Program (AHSDP) offers eligible individuals the opportunity to earn credits toward their diploma while receiving education and training, in preparation for the workplace and/or postsecondary education. Students will be required to apply for admission to the College as a diploma student once they are determined to be eligible to participate in the AHSDP.
| | |
| --- | --- |
| English Language Arts & Literacy | 9 Credit hours |
| Mathematics | 9 Credit hours |
| Social Science | 6 Credit hours |
| Student Success in College | 3 Credit Hours |
| Science | 6 Credit hours |
| Computer Literacy | 3 Credit hours |
| CTE (Electives) | 9 Credit hours |
The GCC Advantage
Adult High School Diploma program is accredited by the Accrediting Commission for Community and Junior Colleges, Western Association of Schools and Colleges.
Student Learning Outcomes
Upon successful completion of this program, the students will be able to:
Demonstrate proficiency in reading, writing, speaking and listening, language, and mathematical skills necessary for the workplace and postsecondary education.
Read and analyze complex informational text independently in a variety of content areas.
Read and analyze appropriate concepts and procedures in content areas.
Apply the knowledge and skills acquired through experience and education to become more productive in the workforce.
Services Provided
Academic Counseling
Career Counseling
Workplace Readiness Counseling
Transition into Postsecondary Counseling
Tutoring
Student Organization
The Adult High School Student Organization (AHSSO) teaches students leadership skills to function in the world of work. It also helps students to realize their self-worth, dignity, and potential self-growth as future contributors to Guam's community.



Contact Information
Location: Foundation Building, 2nd Floor
Phone: 671-735-6016
Fax: 671-734-6002
Hours: 8:00 AM – 5:00 PM
Email: gccadulteducation@guamcc.edu