Adult High School Diploma Program
Section Menu
Contact Us
(671)735-6010 Ext. 5415
Foundation Building Room 6202C
(Campus Map)
Adult High School Diploma Program
"It's never too late to graduate."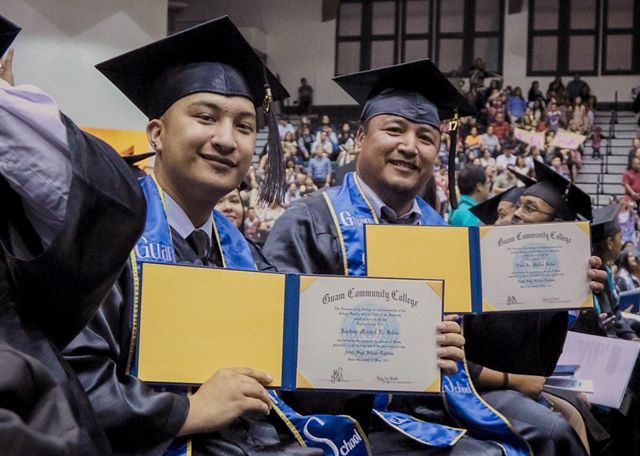 "It's awesome. I love it here. Makes me want to come to school every day because they're very friendly around here. The teachers are very helpful."


– Elias Salas
Adult High School graduate, May 2017
---


Our Mission
The mission of the Adult High School Diploma Program is to assist students with completion of a secondary high school diploma or its equivalent and transition into postsecondary education and/or workforce.


---


Program Eligibility and Placement
Individuals must obtain a Comprehensive Adult Student Assessment System (CASAS) score of 239 in Reading and a 226 in Math to be eligible to enroll in the Adult High School Diploma Program (AHSDP).
Program Description and Requirements
The Adult High School Diploma Program (AHSDP) offers eligible individuals the opportunity to earn credits toward their diploma while receiving education and training, in preparation for the workplace and/or postsecondary education. Students will be required to apply for admission to the College as a diploma student once they are determined to be eligible to participate in the AHSDP.
---
| | |
| --- | --- |
| English Language Arts & Literacy | 9 Credit hours |
| Mathematics | 9 Credit hours |
| Social Science | 6 Credit hours |
| Student Success in College | 3 Credit Hours |
| Science | 6 Credit hours |
| Computer Literacy | 3 Credit hours |
| CTE (Electives) | 9 Credit hours |
---
The GCC Advantage
Adult High School Diploma program is accredited by the Accrediting Commission for Community and Junior Colleges, Western Association of Schools and Colleges.
Student Learning Outcomes
Upon successful completion of this program, the students will be able to:
Demonstrate proficiency in reading, writing, speaking and listening, language, and mathematical skills necessary for the workplace and postsecondary education.

Read and analyze complex informational text independently in a variety of content areas.

Read and analyze appropriate concepts and procedures in content areas.

Apply the knowledge and skills acquired through experience and education to become more productive in the workforce.
Services Provided
Academic Counseling

Career Counseling

Workplace Readiness Counseling

Transition into Postsecondary Counseling

Tutoring
Student Organization
The Adult High School Student Organization (AHSSO) teaches students leadership skills to function in the world of work. It also helps students to realize their self-worth, dignity, and potential self-growth as future contributors to Guam's community.