Download Booklet
Watch it on LIVE on facebook.com/guamcc
Friday, May 14, 2021, 9:00 AM
---
Friday, May 14, 2021, 9:00 AM
At GCC Campus. Diploma pick-up will be at the GCC Library/Learning Resource Center (Bldg. 4000)
● Graduates in their vehicles are asked to be at GATE 1 no later than 8:45 AM and line up along Ladera Lane. The vehicle lineup will be on a first-come, first-served basis. There will be traffic assistance to direct you. (Please refer to the campus map below)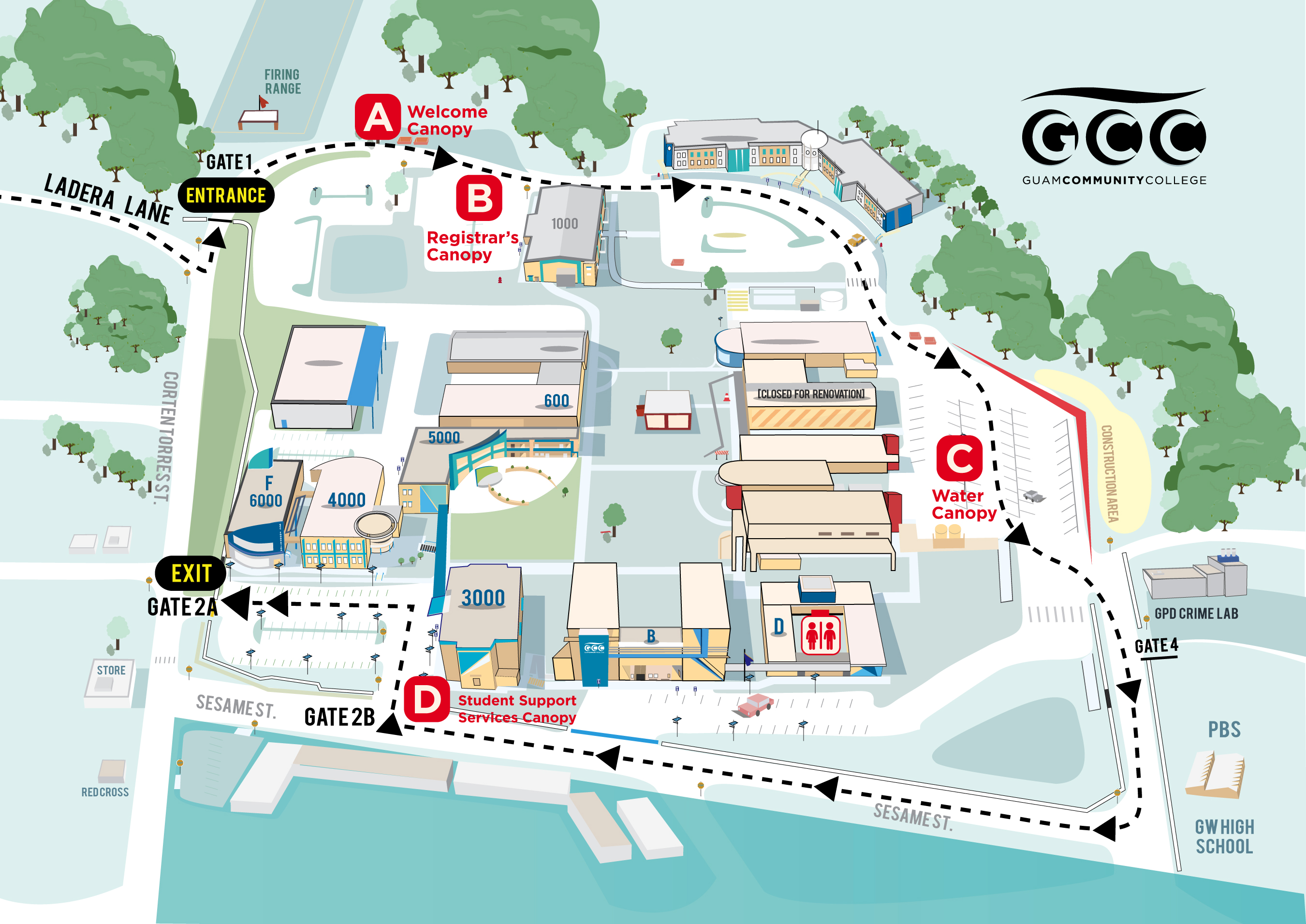 ● The line of cars will begin at GATE 1 and extend out onto Ladera Lane.

● The motorcade will begin at the Tech Center (Bldg. 1000), pass the Administration Building (Bldg. 2000), out GATE 4 onto Sesame Street, back in through GATE 2B, where graduates will receive their diplomas. The frontage of the Learning Resource Center (LRC, Bldg. 4000) will serve as the stage for the event.

● Drop off of graduates will be in front of the Allied Health Building (Bldg. 3000). Before exiting your car, please ensure that you have your mask on. For the safety of everyone, handshaking or other physical contact, will be avoided at all times during the ceremony.

After exiting your car, you will be receiving your diploma, and you will line up and maintain a physical distance from others by 6 feet of space. Please be ready with your index cards with important information on them. You will walk up the short flight of stairs and stand on the marker before walking to the podium to hand your index card to the reader. Walk to the center of the stage area – there is a marker on the floor-- then turn your tassel from right to left. Hold up your diploma for pictures. During the picture-taking, you may remove your mask if you wish, but please put it back on as soon as the picture is taken. Once that is done, please turn to the right and exit by the stairs as directed.

● Each graduate with his or her diploma will have the opportunity to have their photo taken with the President and the Chair, Board of Trustees in front of GCC LRC.
---
Details:
● Graduates must wear Cap and Gown to participate in the Motorcade Graduation. Those who are not wearing a cap and gown will be turned away.

● Program and Student Organization Sashes are allowed.

● Each graduate's party will be limited to the number of passengers who can legally and safely occupy the vehicle. For example, in a five-passenger sedan, the graduate and up to 4 guests. However, in a full-size SUV that seats eight, the graduate and up to seven guests. NO Passengers will be allowed in the bed of pickup trucks. Decorated vehicles are encouraged!

● Please ensure the graduate is seated in the front passenger's seat to ensure smooth drop-off and pick-up during the diploma presentation.

● Occupants of the vehicles will NOT be allowed to exit the vehicle while on the GCC campus.

● Please bring your own refreshments/beverages while in Motorcade Graduation.

● Smoking and consumption of drugs and alcohol on the GCC campus are strictly prohibited.

● Leave your electronic devices, flowers, bags, gifts with a friend or family member.

● Conduct yourself in an appropriate and dignified manner during the ceremony.