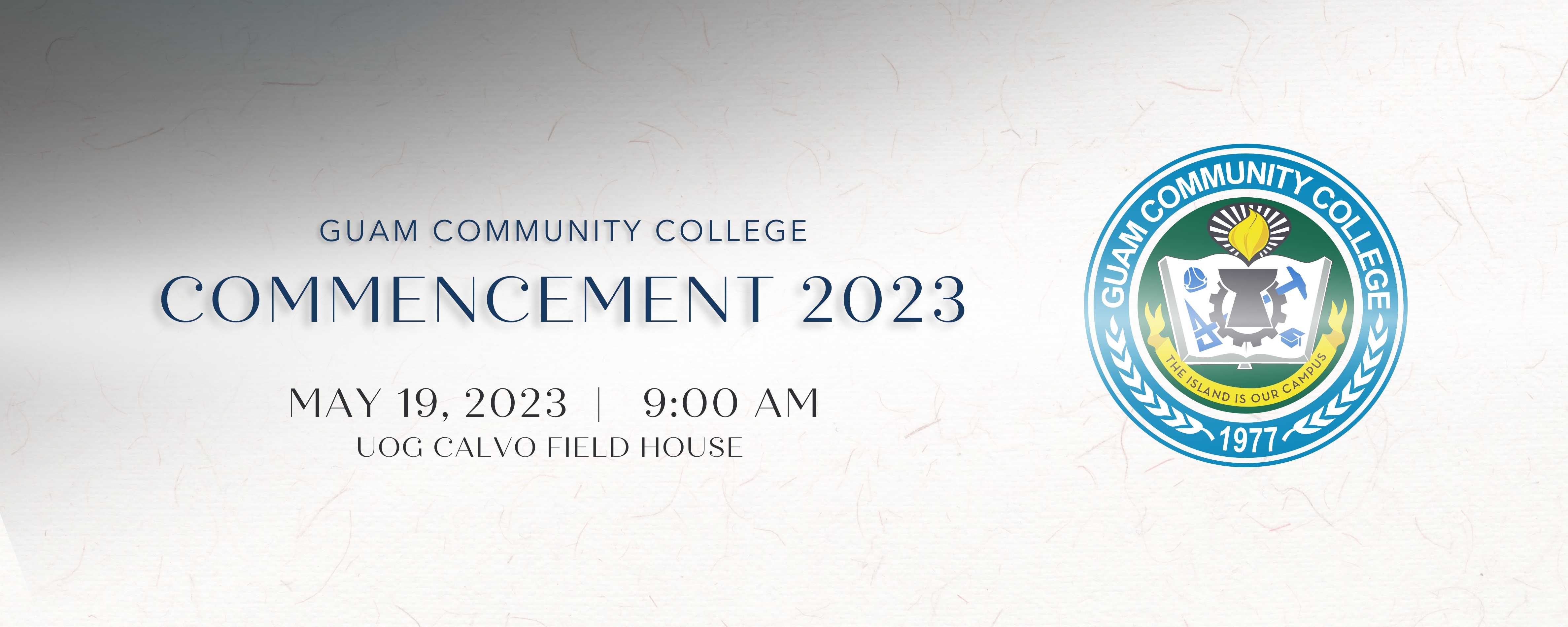 Commencement 2023 Guidelines
Graduate Luncheon
UOG Calvo Field House
May 18 • Thurs | 12 PM

Rehearsal
UOG Calvo Field House
May 18 • Thurs | 1 PM

Commencement Ceremony
UOG Calvo Field House
May 19 • Friday | 9 AM
(Show–up time is 8:00 AM)
---

APPLICATION FOR GRADUATION

Please ensure that you are eligible for graduation and have submitted the ($15 non-refundable) Application for Graduation to Admissions and Registration before the deadline. For information, contact GCC Registrar at (671)735-5531

---
PURCHASE
Cap, Gown and Tassel can be purchased at the GCC Bookstore. (Black cap, black gown & black tassel.) To order a class ring, contact the GCC Bookstore.
Complete Set: $55.00 (Cap, Gown & Tassel Set)
Gown: $35.00
Cap: $15.00
Tassel: $13.00

Bookstore: Monday – Friday, 9 AM –3 PM, (671)735-6018 Ext. 6017 / 6021

---

REGALIA

Cap: Should be worn flat on the head. Decorated caps are welcome!


Please refrain from wearing anything that is offensive and explicit.

Tassel: To be worn on the right side until instructed to move it to the left side during the ceremony.
Gown: Should be ironed and/or crease-free for the ceremony.
To assist future graduates who may be unable to afford a cap or gown, we will be collecting donations of used caps and gowns after the ceremony. Donating your regalia will help fellow future graduates who need your support. If you have no plans to reuse your cap and gown, leave them with GCC staff after the ceremony or bring them to the Development and Alumni Relations Office, Bldg. 2000, Room 2214. Thank you!
---

ATTIRE

MEN: Black tie, black pants, black shoes, black socks and white short sleeve shirt with collar,
WOMEN: Open collar tops, black pants or dress and black shoes. Dress length should not be longer than your graduation gown.
Graduates may be required to walk up and down several flights of stairs, therefore we suggest comfortable shoes to avoid a possible fall. Leis and flowers are for photos before or after the graduation ceremony; they are NOT to be worn or carried during the ceremony.
---

SASH WEAR

Only officially approved sashes are permitted for the commencement ceremony. Sashes include, GCC recognized Student Organizations, Certificate / Degree / Diploma Programs, and Phi Theta Kappa. Flashing pins, glitter, rhinestones and similar types of items cannot be on the sash.

Only two (2) items are permitted to be worn with your cap and gown.

Permitted Combinations:
2 Sashes

1 Sash & 2 Cords
---


PICK UP GUEST TICKETS

Tickets will be available for pickup starting Tuesday, May 2nd, until Wednesday, May 17th, from 8 AM — 5 PM, at Student Support Services (Buiding C, Rm. C-1). Each GCC graduate will be issued EIGHT (8) tickets, regardless of the number of degrees/certificates earned. Please bring your GCC ID to receive and sign for your tickets.

All ages (including infants) will require a ticket.

---


GCC COMMENCEMENT CEREMONY

Friday, May 19, 2023
9:00 AM
UOG Calvo Field House

MUST Arrive by 8:00 AM and proceed to your designated location as rehearsed.

UOG Calvo Field House Rules: Confetti, air horns, helium balloons and banners are NOT permitted inside the Field House.

All graduates and their guests are expected to conduct themselves in a dignified manner that will contribute to the best interests of the graduating class. Do NOT chew gum or betel nut. Leave flowers, bags and gifts with a friend or family member.

---

ALUMNI

Participate in your GCC Alumni Organization, and encourage others to pursue their education at the GCC! Contact: (671)735-5516 Ext. 5515 or alumni@guamcc.edu