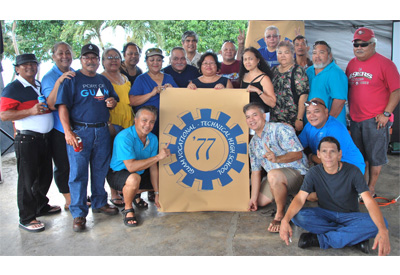 Welcome to the GCC Alumni community
The Development & Alumni Relations Office welcomes your continued engagement with the college. As an alumnus of GCC, you have many opportunities available to help out current and future students. Please take some time to learn about what is going on at GCC and all we have to offer you. As we strengthen our relationship and ties with our alumni, we hope to inspire and generate donations, advocacy and the creation of new campus traditions.
About The GCC Foundation
Since 1977, the Guam Community College Foundation has supported the College's efforts to strengthen the community through education, and to improve our collective quality of life. Investing in Guam Community College through the Foundation benefits everyone by expanding opportunities for personal and professional success, and creating a better-prepared workforce to fuel a healthy economy.
Join the effort to strengthen the teaching, learning, and cultural environment of the College and our community. Together, we can make an important and lasting impact and leave a legacy for generations to come. Current members of the Board of Governors are a partnership of men and women who share a steadfast commitment to higher education in our community, and who are committed to move the mission of the college forward to advance the workforce needs for Guam and Micronesia. These men and women work together to make a difference in the lives of students in Guam and Micronesia who seek career and technical education at Guam's only community college. The primary purpose of the GCC Foundation is to provide a vehicle for the contributions of funds that support activities, goals, plans, projects and programs at GCC that are not funded or inadequately funded by the government or traditional resources, and to provide a public community relations program for GCC. The Foundation is governed by a volunteer board of Governors, composed of professional, business, and community leaders who are committed to advancing and strengthening the important educational opportunities that GCC provides for our island. The Foundation actively seeks donations from individuals and businesses through a variety of methods and fundraising activities and events.
GCC Foundation Board
Lorraine S. Okada, Chairperson
Gerard A. Cruz, Vice Chairperson
Josephine L. Mariano, Treasurer
James Martinez, Secretary
Eduardo Ilao, Member
Annmarie Muna, Member
Eloy Lizama, Member
Carline Bukikosa, Member
Narlin C. Manalo, Member
Frank P. Arriola, Member
Mary A.Y. Okada, C.E.O./President
History & Mission
The GCC Foundation is a publicly supported 501 (c)(3) educational organization. Contributions are tax-deductible as permitted by law. Among the Foundation board members are the GCC President and one representative from the GCC Board of Trustees, who along with Foundation staff provide the link between the College and the Foundation.
Over the past few years, public funding for the Guam Community College has been reduced while college programs have expanded in response to Guam's workforce development needs. Consequently, GCC has had to turn to alternative funding sources as a means of financing new projects and maintaining services. These sources include federal and local grants; revenue diversification; the solicitation of corporate donations; GCC's alumni association; and community college foundation activities.
The mission of Guam Community College is a leader in career and technical workforce development, providing the highest quality, student-centered education and job training for Micronesia.
Contact Us
Bonnie Datuin, Program Specialist
We work with alumni, employees and friends of the college to present programs and to encourage your financial support. Our office is located at the Student Services and Administration Building, Rooms 2214, and 2216 to meet with interested alumni and donors. Please feel free to call us at (671) 735-5554/5516 or send us an e-mail message to alumni@guamcc.edu or join us on Facebook.
Alumni
Stay connected, participate in, or volunteer to organize alumni or retiree groups to help you network with others in your field of study and to continue your education.
Get Involved
Click her to find out why should you get involved and stay involved with GCC!
Invest In GCC
What does your money do for GCC? Find out here!
DAR Events
Click here to learn about upcoming events for GCC alumni and supporters of the College.
Applying For Grants
For GCC faculty only.
GCC Foundation Scholarship
Invitation to Apply
Applicaton Form