Associate of Science in International Hotel Management
Section Menu
You are on...
Main Page for

International Hotel Management A.S.
DEGREES
Associate of Science in International Hotel Management
Total Credit Hours: 62-64
About Associate of Science in International Hotel Management

The International Hotel Management Associate Degree prepares students in the hotel operational departments: Front Office, Housekeeping, Food & Beverage, and Human Resources. This program focuses on customer service and communications skills necessary to be successful as a hospitality professional. Training students in managerial, supervisory, and organizational skills is also emphasized.
General Education Requirements

Course #

Course Name

Credits

EN___

English Composition Requirement

3

Social & Behavioral Sciences Requirement

3

MA___

Mathematics Requirement

3-4

CS___

Computer Literacy Requirement

3

Humanities & Fine Arts Requirement

3-4

SI___

Natural & Physical Sciences Requirement

4

Total

19-21

Technical Requirements

Course #

Course Name

Credits

HS208

Managing Service in Food and Beverage Operations

3

HS211

Managing Front Office Operations

3

HS215

Managing Housekeeping Operations

3

HS216

Human Resources Management

3

HS217

Hotel Security Management

3

HS254

Hospitality & Travel Marketing

3

HS266

International Hotels: Development and Management

3

HS268

Managing Technology in the Hospitality Industry

3

HS292

Travel and Hospitality Practicum

3

Choose One

KE110

Beginning Korean

4

KE111

Intermediate Korean

Related Technical and General Education Requirements

Course #

Course Name

Credits

HS150

Welcome to Hospitality

3

HS152

Customer Service

3

HS155

Basic Hotel & Restaurant Accounting

3

HS160

Hospitality Supervision

3

Total

43

Program Total

62-64
Recognizing the necessity for students to succeed in the complex and rapidly changing workplace, Guam Community College offers a general education curriculum that introduces students to major areas of knowledge and methods of inquiry. All degree programs require an interdisciplinary general education component that promotes the development of intellectual skills that enable students to become effective learners and informed citizens. Critical thinking, the use of language and computation, appropriate social skills, global awareness and respect for diverse opinions are among the learning outcomes provided in the general education requirements of each program.

Guam Community College believes that general education provides the academic foundation necessary for students to achieve their life goals. General education is intended to offer students a breadth of quality student learning experiences, encourage their respect for cultural heritage, promote their ethical and responsible social behavior and facilitate their life-long learning.

The General Education program strives to foster student learning and skill development in civic engagement, critical thinking, understanding of the relationship between the individual and society, information literacy, oral communication, quantitative reasoning, and written communication.

Guam Community College believes that high quality general education opportunities for all citizens are necessary for democratic principles and practices to exist and for a sound economy to flourish. The College continually scrutinizes the general education curriculum in order to assure that all degrees and certificates granted by the College support this vision of general education and that it serves as a means to inspire hope, opportunity and responsibility in all its constituencies.

Requirements for General Education follow the options described below. Students declared prior to fall 2010 will follow the requirements indicated in the applicable catalog in which they first declared their major program at the College.

Notes on General Education requirements
Students are advised to check the requirements for their specific programs before taking General Education courses.
Courses chosen to meet the general education requirements may not be used to meet the technical requirements of a student's specific degree program.

The list contains courses with pre-requisites, so students should make their choices carefully and thoughtfully. Students may consult a counselor or an academic advisor for guidance in choosing any of the course options listed.


IMPORTANT NOTE: Some programs require different levels of coursework to meet General Education requirements, please review the individual programs for more information.


General Education Requirements

English Composition (3 Credits)

Course #

Course Name

Credits

EN 110

Freshman Composition

3

EN 111

Writing for Research

Mathematics (3-4 Credits)

Course #

Course Name

Credits

MA 110A

Finite Mathematics

3

MA 161A

College Algebra & Trigonometry I

4

MA 161B

College Algebra & Trigonometry II

4

Natural & Physical Sciences (4-6 Credits)

Course #

Course Name

Credits

SI 101/101L

Introduction to Chemistry (3) & Introduction to Chemistry Laboratory (1)

4

SI 103/103L

Introduction to Marine Biology (3) & Introduction to Marine Biology Laboratory (1)

4

SI 105/105L

Introduction to Physical Geology (3) & Introduction to Physical Geology Laboratory (1)

4

SI 110/110L

Environmental Biology (3) & Environmental Biology Laboratory (1)

4

SI 130A/B

Anatomy & Physiology I (3) Anatomy & Physiology II (3)

6

SI 141

Applied Physics I

4

Social &Behavioral Sciences (3 Credits)

Course #

Course Name

Credits

SO 130

Introduction to Sociology

3

PY 120

General Psychology

PY 125

Interpersonal Relations

PY 100

Personal Adjustment

HI 121

History of World Civilization I

HI 122

History of World Civilization II

Computer Literacy (3 Credits)

Course #

Course Name

Credits

CS 151

Windows Applications

3

CS 152

Macintosh Applications

Humanities and Fine Arts (3-4 Credits)

Course #

Course Name

Credits

ASL 100

American Sign Language I

4

ASL 110

American Sign Language II

4

CH 110

Chamorro I

4

CH 111

Chamorro II

4

JA 110

Beginning Japanese I

4

JA 111

Beginning Japanese II

4

EN125

Introduction to Human Communication and Speech

3

EN 210

Introduction to Literature

3

HU 120

Pacific Cultures

3

HU 220

Guam Cultures & Legends

3

PI 101

Introduction to Philosophy

3

VC 101

Introduction to Visual Communications

3

TH 101

Introduction to the Theater

3

Minimum General Education Requirements

19
---
Upon successful completion of the AS in International Hotel Management program, students will be able to:
Display various supervisory skills within the hospitality industry.
Exhibit applicable customer service and hotel operations skills based on situation.
Evaluate the importance of communications skills.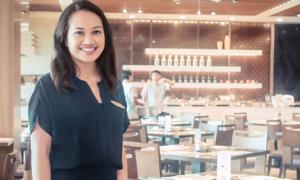 I'm really thankful for all of the things I learned at GCC, because the program shows you the way the hotel works, all the nuts and bolts of what we need to know, so when you start working, it's applying everything that I've learned and not just doing it the way the hotel does it, but also, trying to find ways that you can do it better. As a (former) student who is now working in the industry, I see that Guam has a lot of potential, so from what I learned at GCC, I want to bring Guam to that level.
Check out some of these amazing Associate of Science in International Hotel Management courses...
HS268 Managing Technology in the Hospitality Industry
This course is an overview of the information needs of lodging properties. It will cover basics of purchasing, implementing, maintaining, and managing a variety of technology systems used in hospitality and security precautions needed.
+ More Info
HS217 Hotel Security Management
This course explains the issues surrounding the need for individualized hotel security programs, examines a wide variety of security and safety equipment and procedures, discusses guest protection and internal security for asset protection, explores risk management and loss prevention issues, and outlines OSHA regulations that apply to lodging properties.
+ More Info
HS211 Managing Front Office Operations
Managing Front Office Operations provides an in-depth look at management of the front office and how this department interacts with other hotel departments to create a memorable guest experience. This course presents a systematic approach to front office procedures by detailing the flow of business through a hotel, from the reservations process to check-out and account settlement. It also examines the various elements of effective front office management, paying particular attention to the planning and evaluation of front office operations and to human resources management
+ More Info
---
You may also be interested in these related Programs...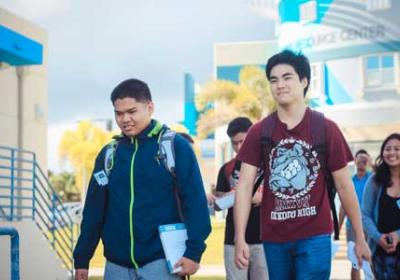 The Tourism and Travel Management program is designed for individuals who aspire to begin a career in the tourism and travel industry. Students are introduced to management and operating principles of different sectors of the industry to prepare them for a meaningful career, leadership roles, or entrepreneurial opportunities. 
+ More Info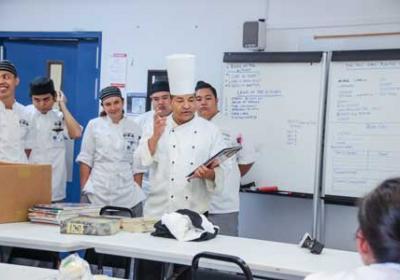 The AS in Foodservice Management Program aligns with the National Restaurant Association (NRA) ManageFirst® curriculum that is framed around a set of knowledge and skills identified by the restaurant industry as important for a successful career in the industry. By completing the NRA required 800-hour work experience, graduates have the option to earn the NRA ManageFirst® Professional (MFP) or Foodservice Management Professional (FMP) credential. (Formerly: A.S. Food and Beverage Management).
+ More Info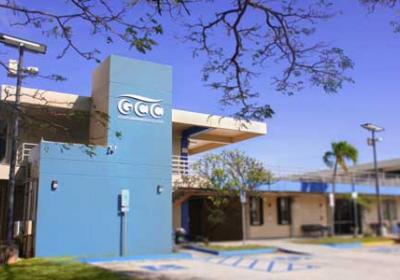 The Supervision and Management program prepares students for entry-level positions and employment in the field of supervision and management. The program is designed for students who want to learn, update and augment existing knowledge and skills and/or acquire cutting-edge technical and managerial skills; it is also designed for current and future leaders, supervisors, and managers who desire the latest skills to be effective and productive in their respective fields.
+ More Info